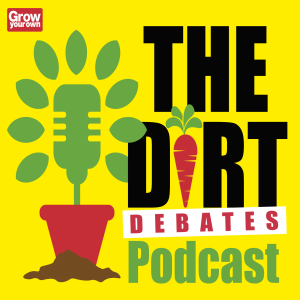 Friday Oct 22, 2021
Are you the proud owner of a greenhouse or a polytunnel? Laura and Ellen discuss which is best
The Plant Based Podcast host, Ellen Mary, and Grow Your Own magazine editor, Laura, discuss the benefits of growing in different undercover spaces – and pit them against each other! They also draft in some opinions from The Dirt listeners to help answer this week's question – greenhouses or polytunnels? 
🥕 Don't miss our special offer exclusively for listeners of The Dirt! You can get three issues of Grow Your Own magazine for just £6 - that's a saving of £11.97 - by heading to growfruitandveg.co.uk/podg – that's p-o-d-g – or calling 0800 904 7000 and quote PODG. Don't miss out!
🤩 Could you be a future guest star of The Dirt? If you have some funny garden fails or smart growing hacks, get in touch on thedirt@growfruitandveg.co.uk, or say hello on social media!
ⓣ Twitter https://twitter.com/gyomag
ⓕ Facebook https://www.facebook.com/growyourownmag
ⓘ Instagram https://www.instagram.com/growyourownmag