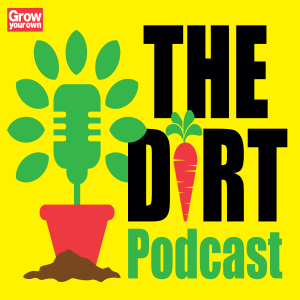 Thursday Jul 16, 2020
I'm a bit of a Charles Dowding fangirl, says no-dig gardener Katelyn
Katelyn (from @inatinygarden) started out growing in her small back garden – and after being on an allotment waiting list for five years, she was thrilled to finally get the green light! With the extra space has come lots of exciting new growing opportunities for some of her favourite vegetables. And, of course, this wouldn't be The Dirt without a variety of gardening fails and learning experiences along the way. 
🌱 Don't miss our special offer exclusively for listeners of The Dirt – you can get seven issues of Grow Your Own magazine for just £29.99 (that's £11.94 off!) by calling 0800 904 7000 and quoting 'GPOD7', or visiting http://www.growfruitandveg.co.uk/gpod7 – where you'll also find the full terms and conditions. 
Could you be a future guest star of The Dirt? If you have some funny garden fails or easy growing hacks get in touch on thedirt@growfruitandveg.co.uk, or say hello on social media! 
ⓣ Twitter https://twitter.com/gyomag 
ⓕ Facebook https://www.facebook.com/growyourownmag 
ⓘ Instagram https://www.instagram.com/growyourownmag