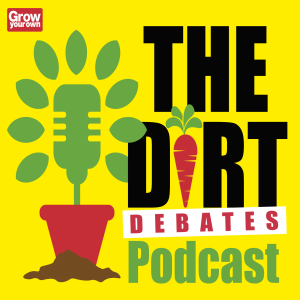 Thursday Oct 07, 2021
Step out of your back door into an edible haven, or pay a visit to the plot? Laura and Ellen debate garden vs allotment growing
Grow Your Own editor Laura and The Plant Based Podcast host, Ellen Mary pit their plots against their gardens in this tricky debate. Both types of space are amazing, but will one come out on top? As well as Laura and Ellen's own thoughts, they draft in listener comment to help weight up the plentiful pros of these brilliant outdoor havens.
🥕 Don't miss our special offer exclusively for listeners of The Dirt! You can get three issues of Grow Your Own magazine for just £6 - that's a saving of £11.97 - by heading to growfruitandveg.co.uk/podg – that's p-o-d-g – or calling 0800 904 7000 and quote PODG. Don't miss out! 
🤩 Could you be a future guest star of The Dirt? If you have some funny garden fails or smart growing hacks, get in touch on thedirt@growfruitandveg.co.uk, or say hello on social media!
ⓣ Twitter https://twitter.com/gyomag 
ⓕ Facebook https://www.facebook.com/growyourownmag 
ⓘ Instagram https://www.instagram.com/growyourownmag