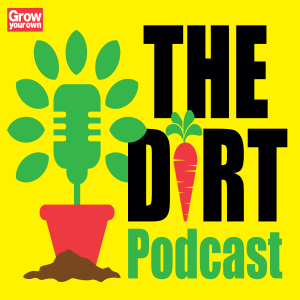 Thursday Jul 09, 2020
Use seaweed feed, invest in organic matter and make notes, says Claire Ratinon
From growing produce for one of Ottolenghi's restaurants to adapting to the clay soil of her new Sussex garden, Claire Ratinon's varied gardening experiences make for a captivating listen on this week's episode. Find out the important lessons she's learned along the way and why she thinks every gardener should take some time to slow down and reflect on their efforts. 
🌱 Don't miss our special offer exclusively for listeners of The Dirt – you can get seven issues of Grow Your Own magazine for just £29.99 (that's £11.94 off!) by calling 0800 904 7000 and quoting 'GPOD7', or visiting http://www.growfruitandveg.co.uk/gpod7 – where you'll also find the full terms and conditions. 
Could you be a future guest star of The Dirt? If you have some funny garden fails or easy growing hacks get in touch on thedirt@growfruitandveg.co.uk, or say hello on social media! 
ⓣ Twitter https://twitter.com/gyomag 
ⓕ Facebook https://www.facebook.com/growyourownmag 
ⓘ Instagram https://www.instagram.com/growyourownmag