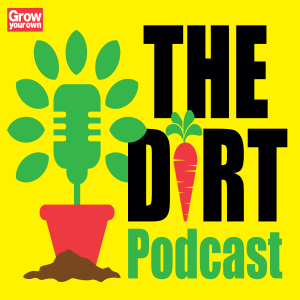 Thursday Jul 02, 2020
Distract slugs with sacrificial chard kebabs, says Alexander Thompson Byer
Alexander Thompson Byer has been gardening for 14 years – inspired by the Ruth Stout method, his allotment places a large focus on putting nature first and using permaculture techniques to great effect. Plus, he's got some quirky tips for upcycling Facebook finds into handy garden items! Hear this and all the usual gardening banter from the GYO team by listening now. 
🌱 Don't miss our special offer exclusively for listeners of The Dirt – you can get seven issues of Grow Your Own magazine for just £29.99 (that's £11.94 off!) by calling 0800 904 7000 and quoting 'GPOD7', or visiting http://www.growfruitandveg.co.uk/gpod7 – where you'll also find the full terms and conditions. 
Could you be a future guest star of The Dirt? If you have some funny garden fails or easy growing hacks get in touch on thedirt@growfruitandveg.co.uk, or say hello on social media! 
ⓣ Twitter https://twitter.com/gyomag 
ⓕ Facebook https://www.facebook.com/growyourownmag 
ⓘ Instagram https://www.instagram.com/growyourownmag