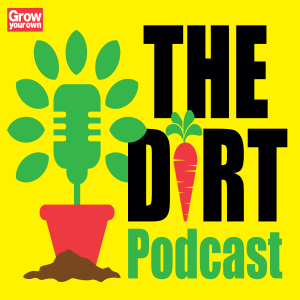 Friday Jun 11, 2021
New allotments are overwhelming but don't give up, says Rekha Mistry
Now an expert grower, Rekha Mistry joined us on this week's episode of The Dirt and recalled how overwhelming her new allotment was when she first took it on. Rekha also imparts plenty of wisdom in the form of garden tips and tricks - as well as some philosophies to grow by.
Also on the pod, there's plenty of garden news and a Q&A with our amazing pod sponsors, Envii.
🥕 Don't miss our special offer exclusively for listeners of The Dirt – you can get seven issues of Grow Your Own magazine for just £29.99 (that's £11.94 off!) by calling 0800 904 7000 and quoting 'GPOD7', or visiting http://www.growfruitandveg.co.uk/gpod7 – where you'll also find the full terms and conditions. 
🎙️ Could you be a future guest star of The Dirt? If you have some funny garden fails or easy growing hacks get in touch on thedirt@growfruitandveg.co.uk, or say hello on social media! 
ⓣ Twitter https://twitter.com/gyomag 
ⓕ Facebook https://www.facebook.com/growyourownmag 
ⓘ Instagram https://www.instagram.com/growyourownmag