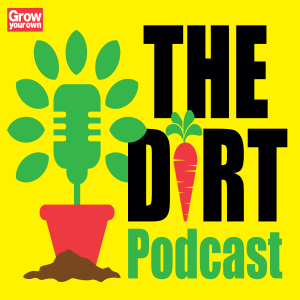 Friday Jun 04, 2021
You have to be creative when using your crops, said 'Two Dirty Boys'
We were joined by Robin and Paul, AKA 'Two Dirty Boys', who told us all about their allotment successes and failures. They gave us some fantastic ideas for creative crop uses, crop-swapping and discussed growing peaches in the UK.
The Dirt is sponsored by Envii. Visit Envii.co.uk for more information on their product range.
🥕 Don't miss our special offer exclusively for listeners of The Dirt – you can get seven issues of Grow Your Own magazine for just £29.99 (that's £11.94 off!) by calling 0800 904 7000 and quoting 'GPOD7', or visiting http://www.growfruitandveg.co.uk/gpod7 – where you'll also find the full terms and conditions. 
🎙️ Could you be a future guest star of The Dirt? If you have some funny garden fails or easy growing hacks get in touch on thedirt@growfruitandveg.co.uk, or say hello on social media! 
ⓣ Twitter https://twitter.com/gyomag 
ⓕ Facebook https://www.facebook.com/growyourownmag 
ⓘ Instagram https://www.instagram.com/growyourownmag